The following Report was written in 2002:
Our program, known as Distant Audio Video Evaluation by an MD, or DaveMD, was begun under a USDA Grant in 2001. Since that time we have cared for approximately 500 patients. We strive to give excellent patient care for patients who live in rural and remote areas, and visitors to these areas.
The Telemedicine Medication Kits are one aspect of the Telemedicine Grant and were developed over the last year and a half.
We have surveyed our patients, (per Office for the Advancement of Telehealth suggestion), and have a high satisfaction rating.
The program is ongoing and under constant development. We have recently submitted new grant applications to the USDA and Office of Health and Human Services.
We feel that the importance of our program is that it provides access to health care for people who might otherwise not be treated at all. Our grant stipulates that we expand our program if it is successful; we feel that it has been successful and wish to expand to other areas in need.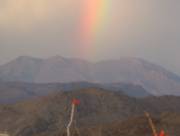 In June of 2001, as a joint venture, Terlingua Medics, Inc. and Odessa Emergency Providers, Inc. received an RUS grant (Grant 730-A17.) to set up a Rural Telemedicine Program - and our group has been utilizing Telemedicine ever since.
Initially, our primary goal was to allow paramedics to obtain a physician consult in critical cases. As our implementation of Telemedicine has progressed, our group has discovered an unforeseen, but extremely promising element of the program: the effectiveness of the physician consult in non-emergent cases. This direction is quite different than our group had originally anticipated, but has the potential to provide greater benefits to our rural population.

Our Groupís Service Area
We provide 911 emergency medical services to a remote region of Texas along the Rio Grande River near Big Bend National Park, covering an area of 3000 square miles.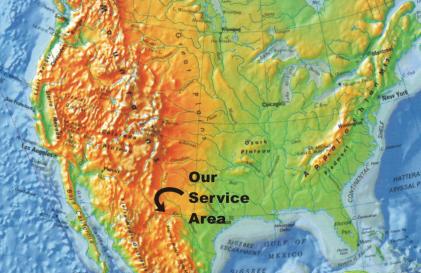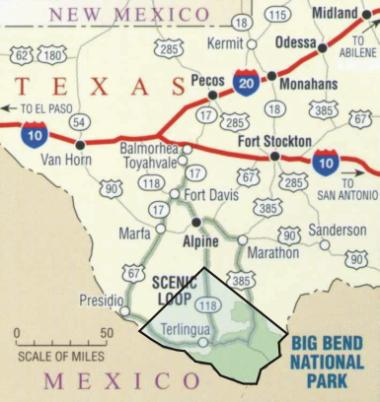 The population of this area ranges from 500 to 2000 at various times of the year, with more permanent residents during the winter months.
Nearly all local jobs are related to the tourist industry, so the permanent residents of the area are, for the most part, park rangers, river guides, and resort employees. There are approximately 200 students in Terlingua schools.
What is "Telemedicine"?
The term "Telemedicine" may seem vague, since the field is in its infancy. Our definition is "medical care that takes place with the physician at a distance". The acronym we have coined is D.a.v.e.M.D., which stands for:
Distant
Audio
Video
Evaluation by a
Medical
Doctor
What are the most common needs of rural patients?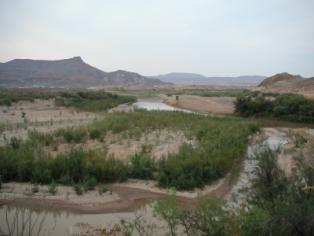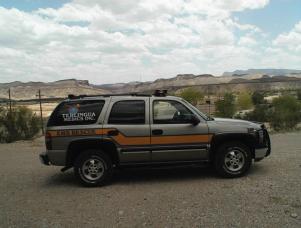 Every patient wants excellent care in an emergency, and our group strives to provide this care. From the start, we have chosen to do more than the typical 911 emergency medical service would do. Most 911 services either transport or determine that no transport is medically necessary. If we determined that no transport was necessary, we wanted to then start treatment of the minor problem. Since the closest hospital and pharmacy are almost 100 miles away, Terlingua Medics has always offered services that extend beyond the realm of simple emergency transports. For example, many times we have evaluated patients suffering from dehydration from the desert conditions and then treated them with IV fluids on the scene without transporting them. Nowhere, other than the middle of nowhere, would patients be routinely treated with IV's and not transported!
Here, as in the rest of the country, minor medical problems are much more likely to arise than critical emergencies. In EMS across America, 90 - 95% of 911 calls are minor emergencies, while only 5 - 10% involve serious or critical emergencies. When a minor medical problem arises in a rural area, patients must travel such great distances that many of them may elect not to seek treatment at all. A simple illness, if left untreated, may then become serious. Rural areas desperately need better access to medical care, and with this fact in mind, our group has been able to use Telemedicine to evaluate and treat many patients with relatively minor medical problems.
Sometimes we provide this treatment at the patient's home, while we assist other patients at the Aid Center.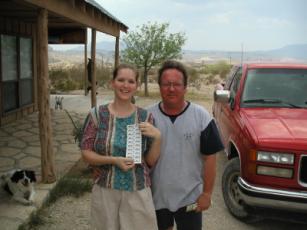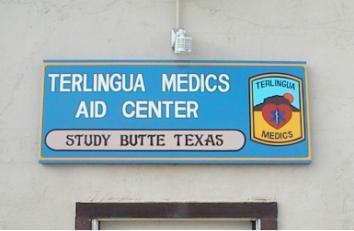 Since the closest doctors, hospital and pharmacy are so distant, Terlingua Medics has always provided much more than just emergency transports; now, the Telemedicine system that we have developed has immense potential to help everyone in the area, to the benefit of patients with minor problems as well as critical cases.
The Telemedicine System as it applies to common medical problems:
Over the past year, our evaluation and treatment of minor cases has evolved into an efficient routine. First, our medics evaluated and treated each patient to see if he or she needed immediate transport. If immediate transport was not needed and the problem was a minor emergency, the medic consulted with one of our emergency physicians. Thus, once the decision was made that a transport was not necessary, we went one step further to try and help these people. We began by administering the first dose of the appropriate medications and then arranged a prescription from the pharmacy in Alpine. This evaluation at a distance was born out of necessity, and has proven to be an imperative step in preventing some minor illnesses such as toothaches, ear infections, and respiratory infections, from becoming serious illnesses.
The Telemedicine Kit
Our next step was to assemble a kit containing the most common medicines needed to treat minor conditions. Below is the Telemedicine Kit that we utilize: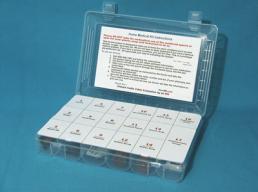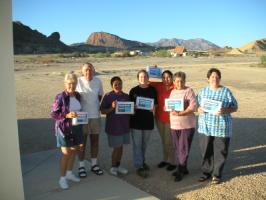 Note that just the initial doses of the medications are in the kit, not the entire prescription. There are 17 medications in the Telemedicine Kit. Most are antibiotics. None of the medicines are narcotics or schedule medications.
The medication kit is similar in nature to the concept of taking along the starting doses of medications for medical problems that you could encounter in other parts of the world. This is not preventative medicine, but preparatory medicine.
The medication kit meets all state and federal guidelines and standards for pharmaceuticals. The kit has been evaluated by our regular attorney, and by a malpractice attorney; we have relied on their input to minimize potential liability issues.
None of the USDA funds were used to develop the medication kit. Since this kit was not part of our proposal for the approved grant, we funded it entirely through other sources.
In May 2002 we distributed 30 free kits to the local residents; in July, we distributed another 100 free kits in our service area.
The Full Prescription
After administering the medications from the Telemedicine Kit, we were calling or faxing in the prescription to a pharmacy in Alpine, Texas. The pharmacy would then mail the full prescription to the patient. If the patient evaluation occurred late in the day, it would take 2 days for the patient to receive the prescription.
So, the final step in our efforts to help rural residents was to obtain an exemption from the Texas state pharmacy board for rural areas. This allows us to dispense the full prescription for the medications we administer from the Telemedicine Kit. Essentially, we are a pharmacy and can dispense prescriptions from Study Butte.
USDA Image and Telemedicine
Having grown up in rural Colorado, I am well aware of the USDA's involvement in many other programs such as setting up the rural electric system. Our group hopes to promote awareness of what the USDA really does; we would also like to promote public awareness of USDA support for our Telemedicine programs.
Summary
We are achieving our goals for the grant. Our main goal was to create an opportunity for paramedics to obtain a physician consult in critical cases and we are very close to having this system streamlined.
Our grant addresses our intentions to expand the Telemedicine program beyond our service area if it is successful. Research shows that there are approximately 450,000 residents in rural Texas counties. Other states also face similar medical access problems.